Fourth of July fireworks shows require spectator etiquette
The heavens will shake with man's thunder and lightning this weekend when Fourth of July fireworks light up the sky.
The dark of night will flash into day, fiery roaring will echo and shockwaves will ripple. And some drunken lout will shout into his cell phone during the show and block the view with his not-so-svelte frame and enormous head.
As you head out to the lakefront or your favorite park for the public fireworks shows, here are a few suggestions so that everyone has a good time:
First and foremost, 
• get there early and find a sweet spot, says Vince Siegel, owner of American Fireworks in Brookfield. "When people get there early, there is a lot less chaos," says Siegel, who has been in the industry 30 years selling fireworks, firing off displays and giving safety demonstrations.  
•Stake your claim clearly with beach towels or blankets. If border conflicts flare, be assertive, diplomatic and polite. Parties with lawn chairs should be aware of the ground-level people around them and avoid blocking the view.
 •Don't try to wade through a field of people after the show starts. "I really think of it like picnic etiquette," Siegel said.
 •No pets, please. A fit of panicked barking from a distressed dog during a fireworks show is going annoy everyone. Siegel advises parents should be mindful of bringing infants because they can be easily rattled by pounding pyrotechnics.
 •Don't distract the professionals.
 •Don't set off your own fireworks at the show. Many municipalities in Wisconsin - including the city of Milwaukee - bar individuals from possessing and blasting off fireworks. Feel free to "oooh," "aaah" and cheer to your heart's content as the show explodes above. Part of the charm of watching fireworks is the community's collective reaction to a stunning display.
Many July 4 fireworks shows going up in smoke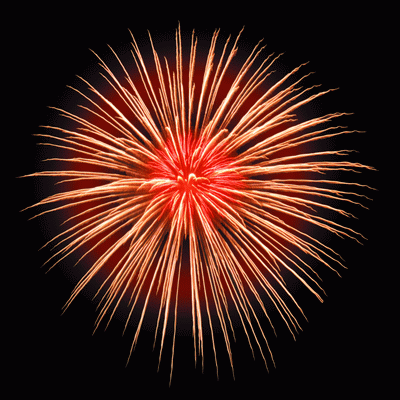 The skies will be dark and silent over Colorado Springs, Colo., on Saturday. Because of the recession, city officials canceled their Fourth of July fireworks display, a three-decade-old extravaganza that was one of the biggest Independence Day parties in the state.
More than 50,000 people usually turn out for the show at Memorial Park, which traditionally features the Colorado Springs Philharmonic Orchestra booming not one, not two, but six howitzer cannons in time to Tchaikovsky's "1812 Overture."
Pyrotechnics not the only expense
Usually, as in Colorado Springs, local businesses or the Chamber of Commerce pay for the event itself. There's overtime for police, fire and emergency crews; a big public works cleanup effort; and liability insurance to consider, Fung said. Such expenses can be tough to justify when many communities are instituting or considering layoffs, service reductions and tax increases.